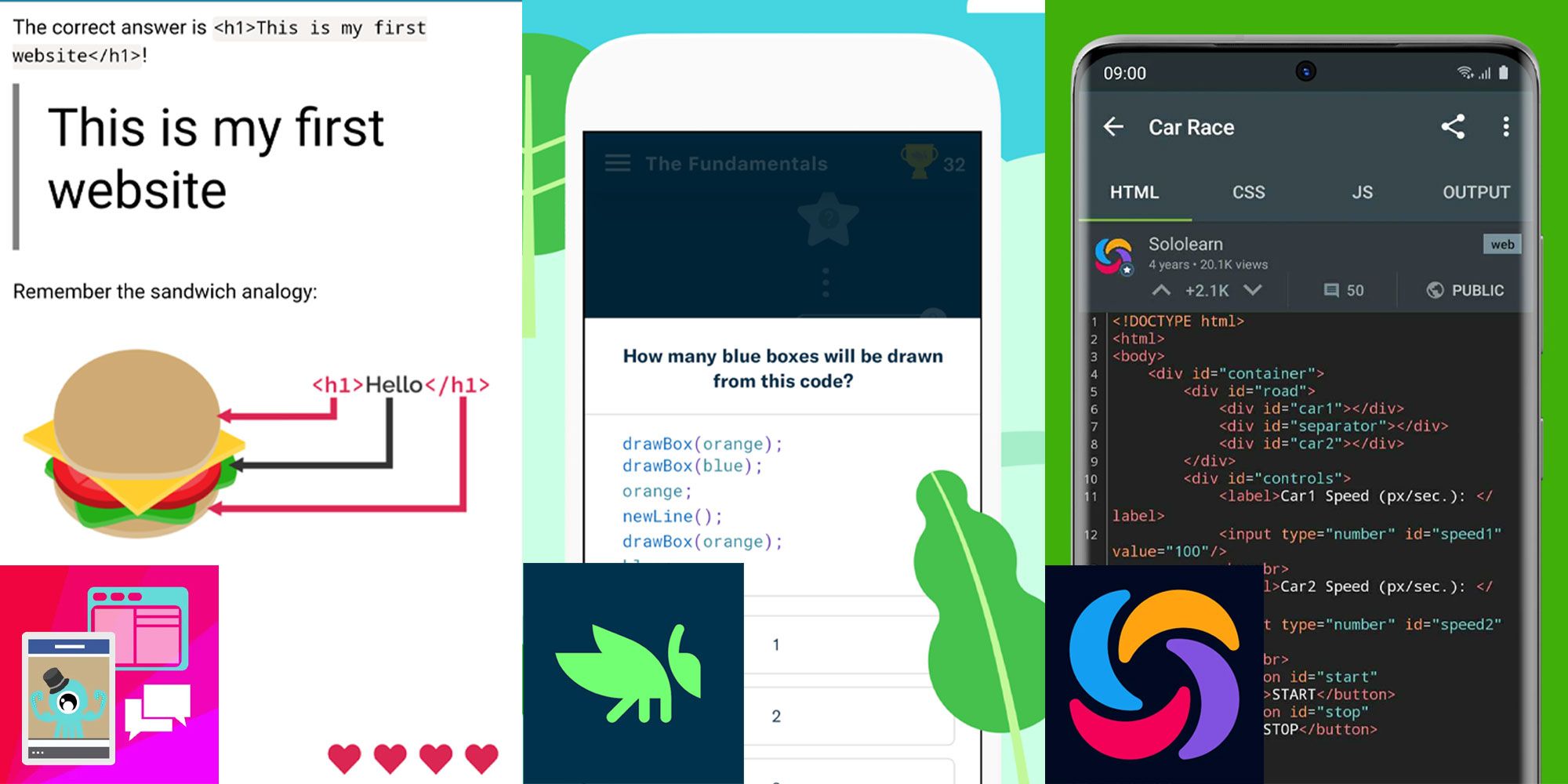 10 Best Android Apps to Learn Coding
Coding has become an indispensable skill in today's era. But not only is it valuable in the job market, but it also incorporates other important abilities such as creativity and problem solving that are incredibly useful in day-to-day life.
But coding is very broad and encompasses a multitude of different languages, topics, and platforms, and for beginners, the world of coding can be confusing and difficult to navigate. Luckily, there are a ton of mobile apps for Android users that can help simplify these ideas and make coding a fun and educational habit.
SwiftBites
SwiftBites is a coding app specifically for learning Swift, which is a popular new programming language. It is ideal for beginners as it covers all the necessary bases.
Related: 10 best apps and websites to help you with math
Each mini-course covers a different aspect of learning Swift, from simple operators to creating functions. But, it's not just a wall of text for users to read, SwiftBites makes learning interactive by including real code examples to see how the language and the coding itself works.
Gym code
Gym code is one of the best free coding apps dedicated to teaching Java. The application aims to provide users with many opportunities to practice their skills and write real Java code.
Its courses are in the form of a playable quest game with four quests of ten levels each with its own tasks and lectures. As users progress through each lesson, they can also level up their character. The app uses various techniques, including visualization and storytelling, to make learning to code easier and more fun.
mimo
mimo was considered one of google play's Best Self-Improvement Apps of 2018, describing how the app helps users improve and stay motivated. Mimo's lessons cover many of the most popular coding languages, including Python, JavaScript, and HTML.
Mimo has a very simple and attractive interface to make it easier to read on smaller screens like Android phones. It even has a code playground where users can have fun creating their own programs, as well as projects available in their program to help build user portfolios.
Programming Center
Programming Center has a huge amount of content, with over 5,000 programs in 25 different languages ​​(Programming Center). Its courses are backed by research from Google experts and are streamlined and easy to understand, making it a breeze to learn coding.
Related: 10 best free movie apps
The app contains interactive graphics and illustrations, adding fun and color to every lesson. An added benefit is that at the end of each course, users receive an electronic certificate that they can include in their resume and share on sites like LinkedIn.
Encode
Encode is a free Android app that can be used as users' personal coding tutor. It's great for beginners who may not have any coding experience, as each lesson starts with the basics.
Encode features plenty of interactive coding lessons teaching Python, JavaScript, HTML, and CSS, as well as mini-challenges in the code editor weaved into each lesson, so users can practice their newly learned skills. The app can also be used offline, making it ideal for on the go or travelling.
Grasshopper
Grasshopper is an application created by Google coders for beginners and has been included as part of Common sensefrom the list of Best EdTechs of 2018. It teaches JavaScript through fun games and puzzles, then provides real-time feedback for tips and improvements.
The app can be downloaded to multiple devices, so users can apply skills learned on their phone to large projects on their computer. Grasshopper's interface also offers a variety of different languages ​​for international learners, including Spanish and Portuguese.
programming heroes
programming heroes focuses on making learning to code fun while teaching a ton of information. It offers courses on Python, C++, algorithms, game development, and more.
Related: 10 best apps to make your home smarter
What makes Programming Hero unique from other coding apps is how they are able to integrate games into the program, like their 3-second burger game as a quiz and a basketball game. ball to explain data structures. The app prides itself on not only teaching but also helping users find jobs related to their interests.
codemurai
Codemurai is one of the best free apps to learn to code on the go. It has a ton of little lessons on a variety of topics, including app development languages ​​like Java and Swift as well as game development features like Unity and Phaser.
Each course contains its own coding challenges, hands-on exercises, and quizzes to test users' knowledge. Beginners and advanced coders can use the app to acquire new skills or refresh the old ones and afterwards they will have the knowledge to create any type of program.
Enki
Enki is an application used by more than a million professionals (Enki), novice and expert developers. It contains over 1,500 lessons on over 20 different skills, including Data Science, Git, and Blockchain. Enki has free content, but it also has paid plans for individuals and teams.
Each Enki user is associated with a mentor who gives them personal advice and motivates them. The app also offers camps that run for a few hours for 2-4 weeks on Excel, Data, etc.
SoloLearn
SoloLearn is a great coding app that won Best Computer Coding Education Solution from Breakthrough EdTech in 2021. It currently has over 50 million users (SoloLearn) and more than 20 courses on various topics, such as Python, Java, Data Science and Machine Learning.
His lessons are short and simplify complex coding concepts. Hands-on exercises and quizzes are included in every course to help learners feel more confident in each coding language. With each course, users also receive a certification that they can then share.
Next: 10 best meditation apps for iPhone