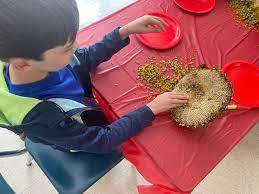 Sixth grader in Bethel embarks on a gardening project
September 29, 2022

Hits: 77
Sixth grade students from Chelsie Eldreth's class in Bethel have completed a project to harvest sunflower seeds which will be replanted next year in raised beds around the school.
Eldreth, who teaches CTE classes at Bethel and Valle Crucis Schools, said the project was part of the group's larger agriculture and gardening curriculum. This project is just a small part of the multitude of opportunities throughout the school year that her students have to gain hands-on experience with all aspects of the planting, growing and harvesting process. The Bethel School Garden joins a list of several around the county that are planted and tended each year by CTE Middle School students.
Eldreth is one of four Watauga County Schools teachers who teach middle school agriculture courses. The district added the agriculture program to the college in 2019 and has seen growth in scope and enrollment. Eldreth said his students look forward to exploring a wide range of projects in their CTE courses over the coming year, including architectural projects, making floor plans for home design, creating solar cars and simple machines, gardening and coding.
---