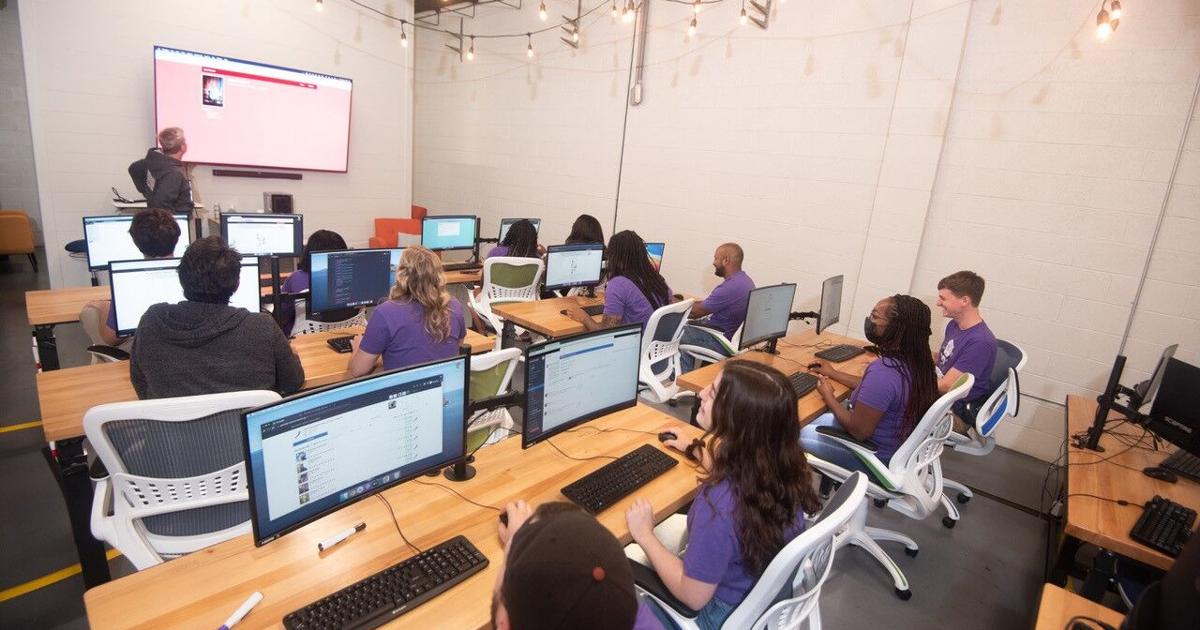 This Coding Course Prepares People for $65,000 Jobs in Louisiana: 'It's Just a Huge Win' | Inspired by Louisiana
New Orleans-based Operation Spark offers a variety of solutions for students of all ages interested in pursuing a career in software technology, one of Louisiana's fastest growing career fields.
"Our programs are open to anyone, but our mission is to get low-income people in and out of the program," said founder John Fraboni. "We have welcomed a number of single mothers into our program. We provide child care allowances and other offers to enable people to complete the program.
Operation Spark, a nonprofit tech boot camp, will be offering a free three-week introductory computer coding course, with the next two rounds of classes beginning September 26 and October 24. Classes are offered in-person and virtually. So far, about 300 people have graduated from Operation Spark's adult program since 2016.
The free introductory course is designed to fit a variety of schedules and give participants a free opportunity to see if the more intense six-week boot camp, which is priced on a sliding scale, is something they want to try. After completing the boot camp program, students can choose to participate in Operation Spark's full-time, four-month immersion program at a cost of $11,000 – again, a variety grants are available.
The carrot is that Operation Spark has a 99% placement rate for its graduates — most landing tech jobs paying $65,000 or more in New Orleans.
"It's four months, very immersive. When you graduate four months later, you'll be a junior software developer with an average salary of $65,000 and an asset to your employer. You'll spend less time and money to get you started in the job market," said Fraboni, who is originally from Canada and successfully launched Operation Spark in 2014 on a challenge.
Fraboni came to New Orleans to study with a jazz musician before Hurricane Katrina. He said he had "a sub-career as a software developer" that allowed him to travel and allow himself to take time off to pursue his personal interests. When he returned to New Orleans in 2013, he said he was disappointed to see so many troubled youngsters.
He said aloud to a friend, "Why not start a program to train children in software design?" His friend challenged him to do so.
"It took a minute to figure out all the elements. I had never started a nonprofit," he said. "I started by going to community centers. I had worked in the video game industry in Montreal. I ended up developing the workforce sector.
Subsequently, he created a high school program to orient young adults towards a career. So far, Operation Spark has trained approximately 500 high school students from across Louisiana.
"Instead of being a software consumer, you can be a software creator," Fraboni said.
Preparation is the first phase of Operation Spark's training program, which gives students the opportunity to try their hand at software programming without a full-time or financial commitment.
For students looking to pursue a college education, Operation Spark partners with the Tulane School of Professional Advancement and the Louisiana Community and Technical College System, which includes Delgado Community College in New Orleans. Operation Spark's industry-based credentials will transfer into college credit hours, saving time and money.
The minimum technical requirements to participate are a laptop, desktop or Chromebook and a stable internet connection. The program's experienced, full-time teaching staff has been teaching coding classes for adults and students across Louisiana since 2014.
"If the kids hold out for the two years, they graduate at 18 and go into jobs earning $55,000 a year. That's it. They do it," Fraboni said. "We've had about 15 kids do this over the past two years. It's a half-day program in high school."
The program also trains high school teachers to carry out the Operation Spark curriculum, even in rural Louisiana. Fraboni said he has trained 18 teachers so far, nearly doubling the organization's entire staff of 22.
"It's just a huge win for the region," Fraboni said.
At the end of September, Fraboni goes to New York to participate in the Clinton Global Initiative.
"It's an opportunity for us to go and meet bigger organizations and funders at a higher level," he said. "We are currently in the process of moving to Georgia and need a little seed funding to make this happen. We will be self-sufficient once we get up and go, but we need philanthropic support to help students to follow the program."
For more information on Operation Spark, visit operationspark.org
Email Jan Risher at [email protected]