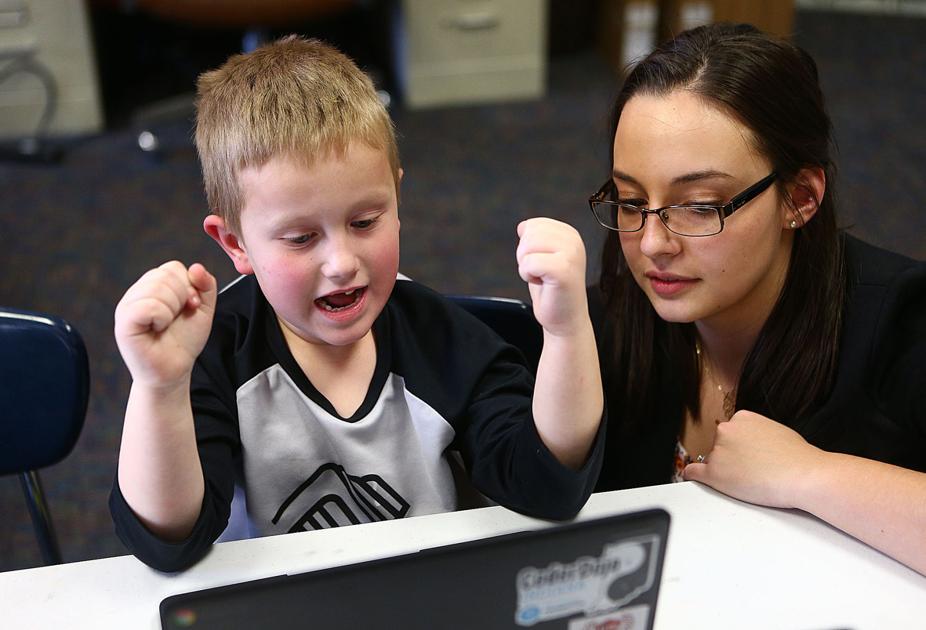 Tipton Boys and Girls Club Adds Coding Course | Local News
TIPTON – For the kids, the new coding class at the Boys and Girls Club in Tipton County is fun and engaging. For adults, it is a business investment.
The Tipton County Economic Development Organization has partnered with the Tipton County Boys and Girls Club to deliver a one-hour code class to elementary school students. The partnership is a continuation of TCEDO's work aimed at bringing workforce skills to schoolchildren.
In class, students use a coding program to work their way through the levels of Minecraft, a popular computer game. Although most students learned some level of coding before the class, some students still found the class difficult.
"It's a little difficult," said Kennedy Simms, a third-grader in the class. "But I just try again until I succeed."
Fourth-grader Ashley Robinson agreed the class can be tough, but added that she thinks coding is fun.
"I like that it is a challenge," said Robinson.
Nathan Kring, executive director of TCEDO, said the TCEDO decided to partner with the Boys and Girls Club for several reasons.
"They made the conscious decision to make education important," he said. "And [the club is] central. We receive children from both [the Tipton and Tri-Central] districts. And this is EDO's initiative to make education a priority.
Amanda Mendenhall, program director at the Boys and Girls Club, said there was a push in Boys and Girls Clubs across the country for programs focused on STEM, which stands for science, technology, engineering and math. The coding class is a great fit for this initiative, she said.
"This is one of our big goals," she said. "Focus on education, developing skills that children normally wouldn't have.
The program is only possible with the help of TCEDO, she said. The Boys and Girls Club would not have the staff to deliver the course normally, but TCEDO helped coordinate the volunteers to run the program.
TCEDO is able to offer the class through a grant from the TechPoint Foundation for Youth, which has provided educational grants to TCEDO in the past. The grant also covered laptops and software for the classroom. Kring said the organization is seeking another grant that would cover robotics and computer equipment to be used at the Boys and Girls Club.
Kegan Schmicker, a volunteer with the program, said he was excited to get involved when Kring asked him to.
"This coding education is going to be a necessary skill, at least having the basic knowledge," he said. "Our schools need help today and, as a member of the community, I thought to myself, 'What better way for me to step in and help our children than by volunteering as part of the community. a program like this? ""
Another volunteer on the course is Nia Cobb, Director of Community Development for TCEDO. She said she had experience coding more advanced than what students learn, but it was actually a challenge for her.
"Learning something this simple is pretty hard when you come to the other side," Cobb said. "It's hard to get back to basics. I was learning part of it while I was teaching.
She said younger students are just as eager to start classes as older students, even though they have received less coding education. Schmicker echoed him, saying it was refreshing to see young students so excited to learn an important skill like coding.
"We see the kids struggling, but enjoying it," he said. "They see it as a challenge that they could take on if they put some energy into it."
Kring said the organization has received positive feedback from companies in Tipton who would like to get more involved in future projects like the coding class. The goal, he said, is to give students the skills they will need to stay at Tipton and work with employers who need skills like coding.
Third-grader Cayden Osborn said he doesn't plan to use coding when he grows up and finds a job, although he wants to use coding for fun side projects. He hopes to one day design a game similar to Minecraft.
The class is fun, he said, but like Robinson and Simms, he said it can be frustrating at times.
"It can be a bit tricky because I don't know what's going to happen in the game," he said.
The current coding class includes students in grades one through three, although the Boys and Girls Club's first coding class was filled with fourth and fifth graders. The first class completed the course in about four weeks, although the class is designed to last 10 weeks.
The current, younger class will likely take longer than the older students, Kring said. When the current class ends, the club and TCEDO hope to continue the program.