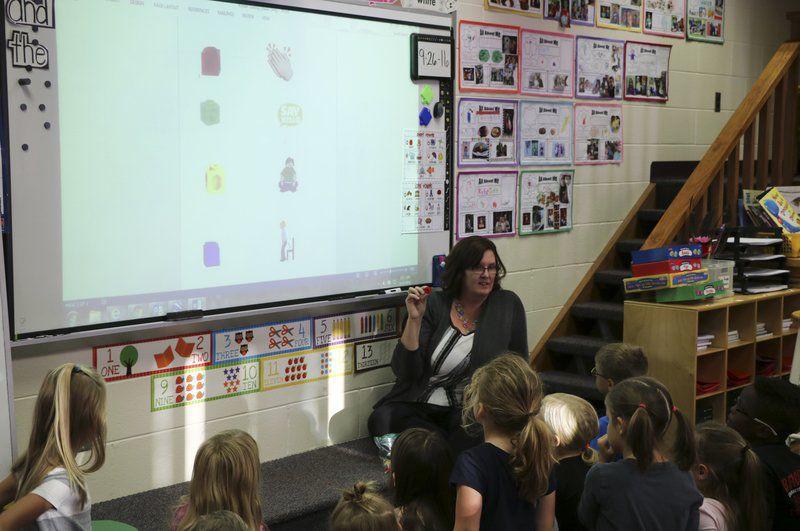 Wakarusa Kindergarten Students Receive Quick Coding Lesson | New
WAKARUSA – At Wakarusa Primary School, even the youngest learners are starting to learn computer coding.
Kindergarten students were busy learning the algorithms, connecting different blocks of color to create a pattern that represents computer code.
Kindergarten kids Jesse Johnson and Addison Stump teamed up as a programmer and robot to create their own codes to program each other on Tuesday. Together, they matched red blocks with green, yellow, and blue blocks each representing a different action that their human robot was then asked to perform.
Red meant applaud. Green, "say hello". Yellow, to sit cross-legged and blue, to stand up.
A black block was a bug to represent a computer virus.
Chris Baldridge, the Kindergarten to Grade 12 instructional technology coach for Wa-Nee Community Schools, taught students the word "algorithm" and explained that it meant giving instructions to a computer.
"We speak English and the computers speak the code, so we have to program a computer. We humans have to program computers because we are smarter than the computer, "explained Baldridge.
What is a bug in a computer?
"A bug is a problem that shuts down a computer because it doesn't know what to do. As humans, we're pretty smart and we can jump over the bug, "Baldridge added.
As a programmer, kindergarten kid Rory Young used all of the blocks to create code for his robot and classmate Reid Payne.
"It's easier to use all the blocks and I put the bug at the end," Young said, showing a sequence of several colored blocks linked together with a black block at the end.
Payne clapped, said hello, sat down and stood up quickly while taking a quick glance at the list of colors and directions projected on the classroom screen. Laughter was heard in the classroom as the teams worked together.
Kindergarten children learn quickly about computers, Baldridge added.
"It's their world that is growing. They get it back very quickly, "she said.
Other technological initiatives
The start of computer coding for kindergarten children is one of many technology initiatives underway within the school, principal Joyn Payne said.
A robotics program is also in preparation for fourth and fifth graders.
Students don't play on the computer in a classroom, but rather computers are used to engage students in their work, Payne explained. They work as a team with a partner.
"We give students the tools to be successful. They may just look different. They will always use print and digital resources, "Payne said. "They are using tools that we have used, but there are so many more available to us now."
In Scott Knafel's second grade class, students used digital tablets to create PowerPoint presentations.
The students worked in pairs and several sat on the classroom floor. Annelea Ortiz and Sabrina Arvizu worked together on a seahorse worksheet.
"We highlight the information, then we enter the facts on our tablet," Arvizu explained, pointing to the screen.
The PowerPoint presentations will be presented to second-graders parents at the school's open house next week, Knafel said.
"It's a good way to show their parents how they learn to use the tablets and what they're doing," Knafel said. "They will be doing a PowerPoint presentation themselves later in the year. This is an introduction to the program with an easy topic.
Follow Sherry Van Arsdall on Twitter at @svanarsdall_TGN.